Our staff's commitment to you
Our staff is committed to providing support, compassion, information, and direction as needed to all members of our community, their families, and friends who are dealing with loss and grief.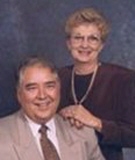 Denis L. & Sandra S. Kale
In addition to owning and operating Truro, Denis began to work for the Webster Funeral Home in Osceola in 1968. William H. Ridgeway founded Webster Funeral Home in 1866, and upon his retirement in 1899, his son-in-law, Theodore B. Webster operated the business. In 1915, Lester B. Webster, son of Theodore, took over upon the death of his father, and William E. Webster became a partner in 1951. William and his mother, Alice operated the business until 1970, when Denis and his wife, Sandra purchased the business. They now operate both Osceola and Truro locations, under the Kale Funeral Home name. The Webster Funeral Home/Kale Funeral Home has served Clarke County from the present location on South Main since 1929.
Kale Funeral Home